So you have finally committed to a great idea and you are now ready to execute? Welcome to the world of being a startup Founder! Time to roll the sleeves up and make things happen! 
Digital marketing for startups is one of the hottest topics going around and we are here to help you navigate this critical strategy and more importantly, execute it successfully. 
Social Media Content Plans For Startups
Being visible on digital channels is critical in your startup journey, especially if that is where a lot of your prospective customers are. Let's face it, with billions of people using social media daily, they more than likely are! 
You are an expert in your product and service, so rather than trying to be a digital marketing expert for your startup as well, engage some experts to handle this for you.
Chatter Digital can research, create, schedule and publish high quality content across your Facebook, Twitter, LinkedIn and Instagram accounts. You simply review and approve the content once a month. 
If you dont have any social media accounts yet, we can also assist with this via our Protect My Brand services where we can register you on up to 300 different platforms to secure your brand name and handle.
Designed To Impact
Engaging and visually aesthetic content to catch the eye of new customers.
Brand Positioning
We put your brand on the map as an authoritative voice and trustworthy partner
100% Customised
Tailored to your target market, whether that is local or national.
Highly Efficient
Have peace of mind and review all content each month in less than 30 minutes.
Helpful Social Media Tips For Startup Founders
Stuck for ideas for your social media content? Here are some quick ideas to help you out! Remember, diversity is one of the keys to engagement so don't be afraid to mix things up. 
Digital marketing for startups is more than just selling and selling. You need to demonstrate value, build trust and be different from your competitors. 
Ready to outsource the digital marketing for your startup?
Digital marketing for startups does not have to be hard work! All our content boosters below give you 30 posts a month (1 per day). If we can save you this time, how many more client meetings or networking events could you attend? You can learn more about our content booster plans here. We also have combination plans to give you coverage across multiple social platforms.
What to get your SEO firing in 2021 too? We can help
SEO is like a rocket ship – it takes a while to get going but once it does then it is hard to stop. We have a range of SEO services to help improve your site authority which will improve your search engine results on Google. Take a look at some of our popular packages below as well. Make sure when some searches for something that you can provide that your name appears on page 1 of the search results page.
How can SEO help your startup?
You will hear this term a lot; SEO is a marathon, not a sprint. This is true, but the reality is that it is critical for your long term success and if you don't start you will always be 3-6 months away from seeing results. Assuming you are trying to build a long term & sustainable business, the smart play is to invest in an SEO strategy now. 
We offer a range of SEO services that are affordable and require little investment of your time – we take care of everything so that you can get on with the hundreds of other tasks you are responsible for as a startup Founder.
Want to learn more about Digital Marketing for Startups?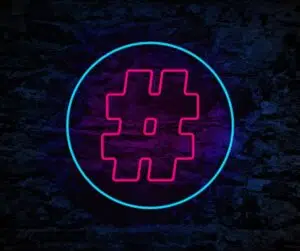 Hashtags! They are seemingly insignificant items, but they are essential...
Read More