Are you struggling to reach out to a broader audience? All your efforts seem to be tossed out the window? Or perhaps you just aren't aware of content syndication to boost your brand awareness.
You write an awesome blog post with stunning graphics and important keywords, but nobody visits your website.
Website traffic is nowhere to be seen.
What's lacking?  The world has no idea about your work!
The solution? Republish the same piece of content on other websites.
That's what we call content syndication.
What Is Content Syndication?
Content syndication is just a fancy name for republishing your content on third-party websites.
You create a piece of content (blog post, article, infographic, etc.) on one website and republish on several others to attract an organic audience, increase brand visibility, and get referral traffic.
Here's an example of an article that was originally posted on MarketingMag (DA=60) and later republished on StackAdapt (DA=58).
You see, the same article is on two different websites with comparable domain authorities. The author can now attract readers from StackAdapt to his own site quite easily.
We talked about referral traffic. If you haven't observed in the above example, there's a referral link to the original article. It's a great way to redirect users to your site. Your content can get flagged as a duplicate without this line.
So, to avoid this, the original source is always mentioned with a canonical link.
"This article originally appeared in [Original post + "rel=canonical" tag]."
Is Content Syndication Any Different From Guest Blogging?
It's important that you don't confuse content syndication with guest blogging. Although both the ideas might look the same, they are significant in their own ways.
Guest blogging is creating an entirely new piece of content specifically for a third-party website. There is no republishing in this case, and the content just sits on that website.
Although both content syndication and guest blogging aim for lead generation, but the major difference is that the former is more scalable.
You can always syndicate your content as many times as you want.
Guest blogging, meh. Creating consistent articles that too for a third-party website is a cumbersome task.
Why Should You Use Content Syndication?
Whether you're a B2B marketer or B2C content creator, you want the "World Wide Web" to listen to what you have to say. Rest assured that your content is great, but what you actually need is exposure and that my friend comes from content syndication. 
Still confused about the possible benefits of syndication? Don't worry! Here are a few reasons why you should start syndicating TODAY:
Let The World Know You Exist!
Suppose you have a surefire tactic of increasing sales by 2000%. You post it on your site, your 200 loyal readers go through it, and "The End."
What's missing? A larger audience!
In 2021, people won't find you. The internet is a mess, and YOU need to be where your readers are.
A larger audience = more exposure.
Once you start syndicating your content, more people see what you offer and why you're best at it. You can climb from a few hundred readers to a thousand or even more!
In short, it helps in creating a steady online presence.
Moreover, to improve your online presence and brand awareness, the easiest way is to reach out to websites that have already established their authority.

Syndicate content on their sites, develop yourself an authority in your niche and enjoy the referral traffic. Once you become a subject matter expert, you can allow other websites to syndicate content on yours.
It's a win, win.
While building your brand, you can also get more email subscribers. Although it depends on the site, you're syndicating on, but some of them allow you to drop a link to your landing page.
Here's a snippet of Sarah Peterson's republished article on EliteDaily. She managed to bring 1,000 new subscribers on board.
Drive Web Traffic And Generate Leads
The good old "I'm not getting any traffic" rant!
And yes, you're not the only one. HubSpot considers generating traffic and lead as the hardest jobs for marketers.
That's where content syndicating comes in. If you syndicate your content on authoritative sites, the chances are that people will start visiting yours too.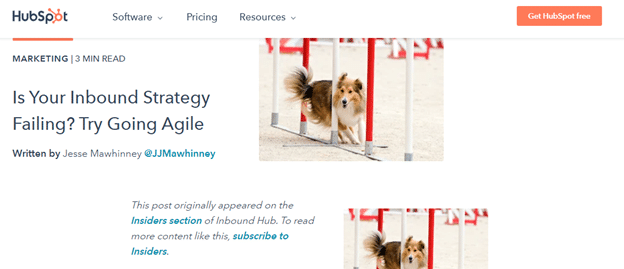 Considering you provide them with solid information and answer their questions. High authority websites already have an established "fan base," and you can talk to them with content syndication.
And tons of high authority websites feature syndicated content. One can easily leverage it and bring in high-quality referral traffic. Moreover, to generate leads, content syndication is one of the most effective modern growth marketing strategies.
Higher the reach = Greater chance of converting readers into leads
It's that simple! And guess what?
65% of the B2B marketers use content syndication as a core lead generation tactic.
Content Syndication also amplifies your reach, gets you more backlinks, and ultimately delivers your content to an audience with a high buying potential.
How Does Content Syndication Work?
Let's start with the low-lying fruit.
Which type of content can be used for syndication?
Along with blog posts and articles, you can also syndicate:
eBooks
Infographics
Whitepapers
Podcasts
Videos
Webcast
And more!
The next question that springs into mind is how does content syndication work? It's not just a magic wand that you swing in the air. It requires effort and dedication.
You can opt for the following approaches when it comes to content syndication:
Social Content Syndication vs Earned Content Syndication
You can collaborate with a high authority website to share each other's content on your social media channels in your niche. It's pretty simple and easily manageable.
It might be surprising, but many blogs and news outlets solely depend on syndicated content. You can reach out to them, pitch your content and build partnerships.
Guest Blogging (In Reverse)
This is not the same guest blogging we mentioned above. Here, you do the opposite. You guest post on a high authority website and syndicate that piece of content on your own site.
The benefit? You bring your content to a larger audience and develop yourself as an authority right from the start. Medium and LinkedIn are great platforms to start with this strategy.
Like any other Pay-per-click (PPC) campaign, you define a target audience, a cost-per-click, and a budget. They customize targeting for each campaign and present your content to a suitable audience.
Co-marketing is also a great way to generate leads as you and your syndication partners promote the same thing. It can be a whitepaper, an eBook, or any co-branded offer.
Content Syndication & SEO
A syndicated piece of content is obviously a duplicate of the original version.
Here's the catch: Syndicated content is not the same as a duplicate content. According to Google, if you syndicate your content on other sites, it will show the version that's best suited for users in each given search.
It might not be the original site.
The problem here is that the syndicated content might outrank the original one.
Although Google is smart enough to identify all the duplicates and separate them from the original one, but things can go sideways.
Here's how you can avoid the original content being marked as a duplicate:
When you include the "rel=canonical" tag, you link Google to the original source of the content. You have to ask your syndication partners to add this tag as it tells Google that the original content is on your site.
Why is it important? Neil Patel lost 225,418 visitors from Google each month as his original content was marked as a duplicate.
If you don't want the syndicated content to outrank the original one, just mark it as "NoIndex."
It tells Google not to index this age in its search results. This way, you don't lose your organic search engine traffic.
You can also use an attribution link to let Google know that this is syndicated content.
Pro Tip: Create the content and publish it on your site first. Once the page has been indexed in search engine results, wait for a week, or so, and only then start contacting partners for syndication purposes.
Here's an example of how James Clear's own blog outranks all the syndicated ones.
Moreover, he uses the syndicated content to generate leads for his free guide and redirect traffic back to his own site.
Kick Ass Methods For Content Syndication
Now you know what content syndication is and how it can help boost your online presence. It's time to buckle up and start hunting for the right syndication partners.
Not sure where to start? Still lost?
Here are some of the best ways to do content syndication:
Syndicate Content on High DA Websites
Imagine you get a backlink from Forbes itself.
Although it's a far-fetched dream for a beginner (in the case of self-syndication), but the benefits of doing so are immense.
Your site gets a boost in its ranking, and Google also considers you as an authority in your niche. Influential websites already have an established audience, and by content syndication, you can reach out to them.
Although the amount of referral traffic would not be much, but you'll definitely see a boost in brand visibility due to the amplified reach.
Another important thing is to target high-authority websites in your own niche.
You don't want a golf article to be published on a pet site.
Here's how you can easily use Google to find syndication partners in your niche.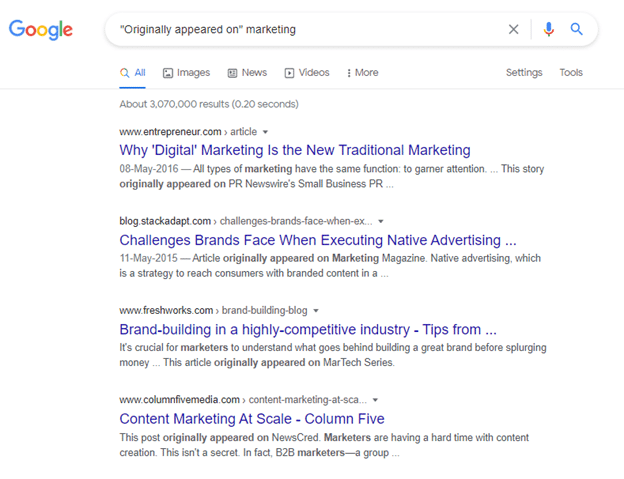 You can also pitch to websites that have a similar audience as yours. This way, you can target a niche audience and gain more referral traffic.
Partner with relevant industry leaders and keep the syndicated content relevant to the audience.
How hard can it be?
Identify Your Content Syndication Goals
What do you expect from content syndication? More traffic, brand awareness, or lead generation?
Paid or self-syndication? Which syndication partners to choose from? Or do you want others to syndicate on your site?
Everything depends on what you are looking for.
For example, if you want to generate leads, co-marketing would be the best course of action. You can also syndicate portions of your content or just the title of one of your blog posts.
This way, you bring readers to your own site leveraging on their curiosity.
To improve reach and boost brand visibility, paid syndication on websites like NBC, MSN, New York Times, etc., through Outbrain, Taboola, or other popular paid syndication outlets should be preferred.
Final Thoughts On Content Syndication
A buzzword that isn't new but has been thrown around a lot as of late is "Content Syndication." And it is believed to be one of the most cost-effective, time-efficient, and scalable ways to bring in subscribers and views.
If you want to reach out to the world, content syndication is the way to go.
Contacting syndication partners, creating pitches, and monitoring the performance is difficult.
Chatter Digital Content Syndication Services takes that burden off your shoulder by publishing your content on 100+ high authority sites across the US.
You can reach out to thousands of new readers each day with just one click!
Content syndication is a crucial part of your whole marketing strategy as it helps build backlinks, brand image, and long-term partnerships with industry leaders.
So, start today and maximize your potential with content syndication!

BONUS TIP: Why not consider issuing a Press Release! If you have something important to announce or want to promote your business, Chatter Digital can write and distribute a Press Release for you to hundreds of news stations and broadcasters. This is a powerful SEO package!