From TikTok being the most downloaded social platform, cryptocurrencies and NFTS gaining insane popularity, google planning to eliminate third-party cookies, and Facebook transforming into Meta, 2021 has revolutionized the digital world.
But what are the digital marketing trends for 2022 you need to be across?
Marketers see 2022 continuing the pace of such advancements, and some digital marketing trends are expected to dominate. Post pandemic businesses are particularly looking for innovative ideas to promote themselves cost-effectively.
This article reveals the top 10 trends that you need to know to direct your marketing strategy in compliance with the digital needs of the future.
1. Artificial intelligence is leading the game
Every business wants better customer service, reduced errors, and optimized processes. It is not humanly possible to match the pace of service people demand in the current age if you don't leverage machine learning and AI.
Gone are the days when brands spammed their customers with new offers every month.
Artificial intelligence and machine learning in digital marketing have allowed producers and manufacturers to learn about their client's interests and needs through data analysis to know what their client wants.
This makes it easy to cater to clients without annoying them and potentially losing them with unnecessary advertising.
The central purpose of integrating AI in digital marketing in 2022 should be personalizing communication. Gather, recognize, and analyze user interests through AI technology and predict their response towards your service.
AI can help you keep an eye on the following aspects of user data to produce relevant solutions to their problems.
Record of previous purchases
Browsing history
Items on their wish list
Apps they have downloaded
The type of content they consume
Their house and work addresses
To facilitate communication fastly and more efficiently, don't forget to incorporate customer service chatbots into your website and social media.
This way, your service will be available 24/7; it will save time on both ends and open ways for automated lead generation.
2. Metaverse, VR, and AR gather the most attention
And no, we're not talking about Facebook here. The market size of the metaverse is expected to hit the $800 mark by 2024, and the essence of metaverse lies in making the digital world a real experience. The more you know about it, the better you can prepare your business for it.
Virtual and augmented reality, on the other hand, is far more established than the metaverse. Even if you don't have a VR/AR set, you're probably a user if you have ever tried out an outfit virtually or used Snapchat filters.
In the smart world, marketers will be the sole builders. Their content will simulate real-life experiences and allow people to try certain products even before buying them.
Kylie Jenner's makeup brand, Kylie Cosmetics on Instagram, has introduced custom filters that allow customers to virtually 'try on' shades of lip colors. It won't be long until other marketers jump on these AR/VR digital marketing trends for 2022.
3. Non-fungible tokens are the new favorite assets
The bored ape supremacy.
Preparing for web 3.0 in 2022 is as important as oxygen to your survival. You will have to experiment with and create Non Fungible Tokens and establish a presence on the blockchain. They can be any digital assets, ranging from graphics, animations, doodles, and even memes!
NFTs are a relatively newer area of the digital world, but it encompasses the future. The future is cryptocurrency and NFTs.
NFTs are digital assets like images, gifs, or animations that do not have any equals and hold great value in the cryptocurrency market. Many brands have already created their own NFTs for sale, so making the most of this option is crucial.
Companies like Barbie, Walmart, Balmain, Hennessy have already joined the race. Twitter has rolled out the feature of displaying NFTs on a user's profile picture for Twitter blue subscribers and plans to render SVGs in the future.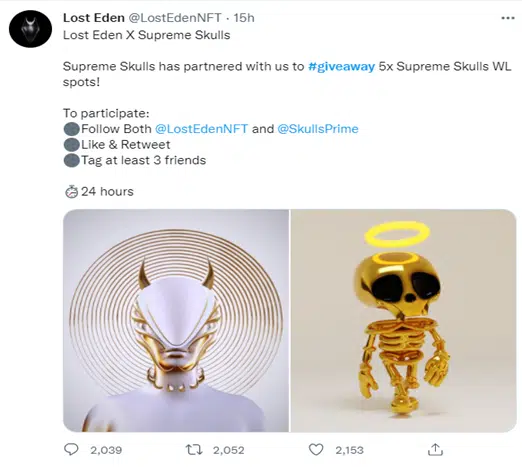 The NFT marketing industry is quite untapped, and creating a solid impact on the blockchain is relatively easy at the moment. NFT marketing strategies are simple; you could try SEO and giveaways to excel at it. 
SEO on Blockchain
Make sure the collectibles you create are optimized according to your relevant keywords, so your NFTs make it to the top whenever the keywords are searched for.
NFT giveaways
Regular giveaways are important to increase your NFT project awareness. They usually require people to sign up on NFT platforms and increase your following base.
Look at how Lost Eden, an eSports brand, has announced their NFT giveaway:
4. Cryptocurrency overpowers paper money
Bitcoin above all.
In addition to the NFTs, cryptocurrency has been a hot topic in recent years. As individuals' demand for privacy grows, more people are familiarizing themselves with crypto so they can control the ads they see.
Accepting payments in crypto can attract way more customers. However, you'd have to consider whether your target consumers are into crypto. Paypal has already introduced checking-out with crypto.
A regular marketing campaign usually requires four components: the advertiser, the content creator, the consumer, and the platform upon which the advertisement is displayed.
Blockchain advertising will shorten the flow of content. There will be only three components involved: the advertiser, the consumer, and the blockchain.
Crypto marketing will increase engagement rates and will allow greater data protection and privacy measures.
5. Diversity, Equity, and Inclusion matter
Lego group of companies recently announced a 960,00 EUR grant to the German Red Cross, and many other business giants are following the trend.
2022 is the time when customers are more curious about the company's core values than what it has to offer. Only extending your support to the NGOs working for diversity, inclusion, and equity is not what the public wants today. You will have to install the DIE culture in your company's marketing campaigns.
Take a look at how Coca-Cola expresses its concern towards diversity and inclusion as fundamental aspects of its company policy.
According to Accenture, 42% of ethnic minority shoppers buy from a store that values diversity and inclusion. Make sure you are portraying the experiences of people from all kinds of backgrounds to build a relationship with all kinds of buyers.
6. User privacy is your first priority
Data breaches have been a common problem since social media and search engine algorithms use user data without consent. However, 2022 is the year we expect Artificial Intelligence to intervene and ensure data security.
Gartner's study says that a whopping 40% of privacy compliance technology will depend on Artificial intelligence by 2023.
AI can be used for classifying sensitive data and ensuring that it does not get tracked. Google's announcement of removing third-party cookies by 2023 is a major milestone in respecting user privacy, and more companies are expected to prioritize customer privacy in their digital marketing campaigns.
You can implement all of the other digital marketing trends for 2022 into your business plans, but if you do not look after your users privacy then it could all be for nothing. Take the time to invest in this area of your business.
7. Micro-Influencers are the power brokers
Your brand needs stories. And to tell a story, the best impact you can get is from micro-influencers. They are generally people having a following between 10,000-100,000. And have a much higher engagement rate than mega influencers or celebrities.
According to Markerly's survey, as an influencer's followers go up, their engagement rate (likes/comments/shares) decreases. This is because these influencers have built an authentic relationship with their followers through delivering relatable content every day.
Post Covid-19, there has been a considerable increase in the number of micro-influencers on social media, and 2022 is the best time to leverage their following to your advantage.
Here is what Pura Vida, the owner of a startup, Cure Hydration, has to say about the power of micro-influencers.
8. Simple, interactive content is the key
The internet is flooded with content. However, only those who radically transform their content according to the 2022 trends will be read.
One often ignored way to create an impact through our content is by making it simple. No one wants to google the meaning of every other word while consuming anything on the internet. Look at what Richard Betts from the British Academy of Digital Marketing says: 
Creating consistent, engaging content that is readily understandable can leave your readers coming for more. Besides, try incorporating visual content in your marketing campaigns. It is more interactive and improves the user content experience.
The founder and CEO of Deltalogix, Linda Grasso, demonstrates why visual content is important for your digital marketing strategy in 2022.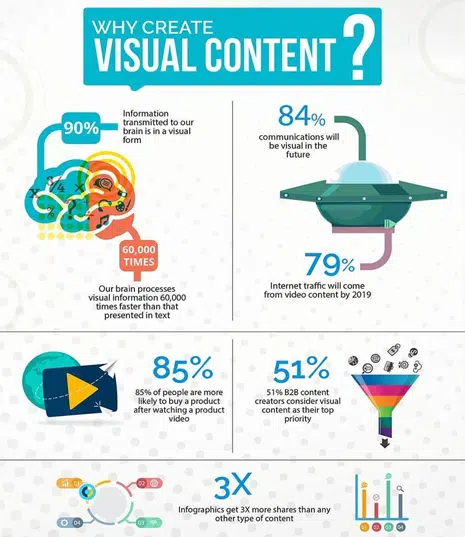 Short-form video content focuses on the fact that the attention span of users continues to decrease. Time is becoming a limited commodity as we proceed through 2022. According to the Video in Business benchmark report, 68% of the viewers watch a video entirely only if it is less than 60 seconds long.
While this was a trend in 2021, it is one of the digital marketing trends for 2022 that is only going to continue to accelerate. 
People have mixed opinions about the newly discovered social media platform called Tiktok. It emerged due to the ongoing pandemic and lockdowns that forced the artist in everyone to come out.
Funnily enough, Tiktok became one of the most popular apps throughout the world within a few months due to its fast-paced content in the form of short videos.
These videos come with voiceovers and captions, making them interactive for everyone.
Many brands started tailoring their own content through Tiktok to garner a larger audience.
Big names like YouTube and Instagram launched similar short videos with different titles (shorts and reels, respectively).
TikTok alone had 94 million downloads in the United States in 2021. Instagram reels and youtube shorts have also seen increasing popularity. Reason? Short videos! 
Short, informative videos save your customers time and help them reach a decision faster.
Videos are not just for youtube; your videos are your business card and your landing page in 2022.
Social media stories videos are particularly engaging. You can connect with your audience through polls, QnAs, and questions feature. The content is casual and mainly for your dedicated followers who regularly tap and visit your stories.
Micheal Litt, the co-founder of Vidyard, says, "The play button is the most compelling call to action on the web."
10. The basics are not going anywhere
While all these fancy new digital marketing trends for 2022 are making their way into the market, it is still the fundamental marketing channels that drive the most sales. Do not overlook them!
Regular social media marketing, email marketing, PPC advertisements, Google Ads, etc., are not leaving the market anytime soon.
Often new marketing trends fail to reach their estimated impact, and in those cases, it's the old-school digital channels that come to your rescue.
Final Thoughts on the top Digital Marketing Trends for 2022
While these trends barely scratch the surface of everything that's going on in the world of digital marketing this year, they will definitely help you take your first successful steps towards a marketing miracle where you sit back and watch your marketing pull in customers from every nook and corner.
2022 will see several advancements in technology. Adapting them as fast as you can is the only way forward. Otherwise, as the CEO of Nokia in his last speech said:
"We didn't do anything wrong, but somehow we lost."
What other digital marketing trends for 2022 are on your radar? Let us know in the comments.