Since Covid-19 emerged at the beginning of 2020, the digital business landscape has changed dramatically. Social media management platforms have become critical business tools. Businesses around the world moved to digital delivery channels by the millions.
With more and more companies implementing some form of remote working and customers demanding touchless transactions, it's no wonder that Smart Insights found a 43% uplift in the total of time people consume on social media on a regular basis as well.
Considering that more than 50 % of the world's population makes use of social media, enterprises must focus on their social media strategies to get their services seen, to grow their business brand and their customer base.
In this article, we list and compare the top ten social media management software platforms that will make managing your social media strategy easier, and help you get the most out of your businesses social media accounts.
Why is social media management and social media strategy important?
Companies must pinpoint what they really want from the social media ecosystem and decide what strategies are necessary to implement in order to boost their social ROI. By leveraging the benefits and tools that social media management software platforms can deliver, business can boost their bottom line and to ensure they remain relevant in the increasingly noisy digital world.
Keeping on top of industry trends, promoting your blog posts, growing your brand, streamlining frameworks, and compiling content across remote teams are all tasks that social media marketers are responsible for. Social media management tools like the ones we discuss in this article help businesses do this with maximum efficiency.
Furthermore, social media managers can use social media management software to develop marketing campaigns that use automated social media content as well as manage their metrics in a way that allows them to pivot as required.
Digital marketing agencies responsible for several brands and must centralise and automate these processes as much as possible boost productivity, reduce cost and increase ROI. Collaboration with clients and teams is essential for any successful social media marketing campaign.
Among the most crucial aspects of the online business world is reputation monitoring or reputation management. Web listening will become a feature that businesses will demand from social media tools and can provide invaluable insights around what the market is saying about you, your industry or indeed your competitors.
Whether you're a social media manager, professional entrepreneur, a small or medium-sized business, how do you know which social media management software is right for you?
The social media scheduler market is crowded. Most of these management tools have common features, but how inclusive are they? Which ones offer the best value? The greatest reliability? Ease of use and understanding?
When assessing the right social media management tool for your business, consider the following features and their relevant to your needs.
Planning & Scheduling: Can you see your monthly calendar in one window, automate posting, and customise posts across social channels? Is it possible to have multiple profiles? Do you all have the ability to schedule as much as you want?
Priority Inbox: Are you able to interact with your right audience at the right time across social media platforms via a central inbox that keeps you across all content interactions real time?
RSS Feeds: Is it helpful to be able to automatically publish your personal or industry blogs to your social media channels?
Brand & Industry Social Monitoring: Can you use keywords and competitor sentiment measurements to track your brand's presence and listen to your audience?
Competitor Analysis: Can you use social reporting and analytics to track and evaluate your competitive advantage?
Campaign Performance: Are you analysing and pivoting your marketing strategy by tracking your posts, ads, and website? Are you able to target specific audiences?
Custom Reporting & Analytics: Do you have to create customised reports for your customers' major social media accounts? Or does the platform have report templates that will cover the key metrics you need to know? How readable are these reports?
Fortunately for you, we've done the legwork and compiled a catalogue of the top 10 social media management software platforms in the market.
Make a comparison between these leading platform. Wherever possible, we suggest signing up for a real time demonstration with one the vendors sales people, or kick the tyres with a free trial if one is offered.
Our top ten social media management tools for 2022
This list contains some affiliate links
Sendible is a social media management software aimed at digital agencies seeking a complete solution with a CRM.
Sendible includes a smart queue feature that allows digital marketers to repurpose content. Monitor keywords, brand mentions, and competitors using their social listening and Social Inbox tools.
You can also generate content ideas across key topics or industries and seamlessly add this to your content calendar to publish immediately, or a date and time in the future. 
Sendible also has a CRM system that enables people to communicate with marketers in real-time through the priority inbox.
Collaborating as a team is also simple, with custom workflow able to be developed to ensure a streamlined process from creation, to approval and publishing, whether that be with your internal team, or by involving the client in the process. There are bulk post upload features that also save you time. 
Monthly fees range from $29 to $299 and is the social media management platform that we use at Chatter Digital. They also offer a co-branded or fully white-label offering for resellers.
We love their Canva integration and the ability to set recurring posts which means you can set your evergreen content to be published for years in advance! Take a read of our article with 10 reasons why you should switch to Canva to help with your social media management.
Eclincherhas been dubbed "the Swiss Army Knife of Social Media" by brand advocates.
With Eclincher's digital marketing tool you will get serious social media ROI. It is a digital marketing platform centered on marketing automation and it assists social media managers save time using a single dashboard, automating global marketing tasks and comes with substantial scheduling options, queues, RSS feeds, and much more.
Each feature or capability is designed with the end user's output in mind. 
Adaptable for a range of users, from solopreneurs to SME's, Agencies, and larger enterprises, it comes with workflow and team collaboration features as well.
It's worth noting that their customer service is consistently rated best in class on sites like Capterra, G2Crowd and GetApp.
This highly-rated social media management software platform includes everything you'll need to put your social media marketing strategy into action.
Some of the other features include a comprehensive content editor, drag and drop graphic calendar, competitor analysis, campaign tracking, and omnichannel tailored social media post formatting to name a few. 
If Instagram planning is essential to you, you'll appreciate the Instagram link traffic driver in your bio, custom Instagram grid scheduling, and the ability to set up Instagram stories and reels with push notifications.
Eclincher includes an intuitive scheduler with smart queues, social CRM or a very smart inbox that ensures you never skip a message, review, or engagement action. The platform also offers RSS feed integration, recommended content, hashtags, and keywords monitoring, URL shorteners, Google Analytics, campaign tracking, and much more. 
This social media marketing tool has everything you need to keep your campaigns fresh and organised while catering to multiple online accounts (s).
Did we say they integrate with Canva? They also integrate Feedly, Zendesk, Bitly, and Unsplash, and are constantly adding more integrations. 
Pricing ranges from $59/month for the most basic plans to $219 for the most advanced. Even though the pricing allows for up to 40 social media accounts, some clients have dozens of profiles and involve a more customised plan.
Custom customised add-ons like reputation management are also accessible for larger groups, so check their subscription plans. Their team is available for LIVE demos, and they currently provide a free trial of 14-days without a credit card.
Falcon.io is a cloud-based digital marketing and customer experience administration solution that includes tools for listening, engaging, publishing content, evaluating, and managing customer data.
They take pride in being adaptable to any digital marketer, whether they're working for a digital agency or a solopreneur. Their tool includes visual planning and Auto-Queue posting, which can be employed for monthly scheduling across multiple social channels.
In addition to social tracking and listening, they also have a Social Inbox feature.
They don't include an influencer search feature, but they are a comprehensive tool that can help businesses of all sizes.
Falcon.io offers customers a schedule to collaborate with marketing departments to plan, start creating, and organising content.
It also makes it simpler to create pages with the campaign builder, including pre-designed layouts and APIs that convey social data, listeners, and content metrics for integration with existing CMS, CRM, and analytics systems.
On business days, this social media management tool provides support via tutorials, online guides, and email, as well as a ticket submission portal, which is open 24/7. Starting price is $129 per month and rises as custom features are added.
Sprout Social has targeted large organisations and workgroups with their stable platform, which is known for monitoring, scheduling posts, predictive analysis, and teamwork with approval workflows. This social media management software will appeal to those involved in employee advocacy.
Such a user-friendly marketplace is simple but powerful, and it includes all of the essential features and all requested customised features. Individual metrics for each post are one such feature.
Sprout caters to digital marketing agencies and medium-sized businesses, offering administration permission settings and post approvals.
Moreover, there's a social inbox tool, as well as keyword search and social monitoring, that's great for interacting and connecting with your audience. Unfortunately, it lacks an influencer search or the Auto Post with Queues management feature.
Pricing ranges from $99 to $249/month and is a social media management platform worth checking out.
Hootsuite is possibly the most well known social media management platform, offering its services since 2008. It was the first social media marketing platform of note. It is the most widely discussed social media platform and can be found on almost every listicle.
They have reputable fame for content curation, organisation, scheduling, tracking, and RSS integration. We believe many teams, small and large, start with Hootsuite and afterward scale to other offerings that better suit their needs.
However, what we truly admire about Hootsuite is its sheer size, marketing prowess, and educational Hootsuite Academy, which assists you to learn digital marketing and enables you to compensate for certifications to equip you with the tasks you have to succeed.
Besides the client management, Hootsuite's social media management tool enables bulk scheduling, which means you can upload multiple posts at once. They don't include an Auto Post feature, a social inbox, or a way to find influencers.
Though it is a wholly integrated tool with an excellent social listening feature, it is highly well known. A 30-day trial is also available.
Prices range from $29 to $599.
Loomly is a content creation and social media management platform.
Loomly isn't yet a properly unified solution compared to other social suites. They, unfortunately, haven't features that large corporations find valuable, including listening and monitoring, due to their key focus on content creation.
To help social media managers with their curating strategy, Loomly has a content suggestion and visual calendar feature. They don't have a social inbox right now, but they have client management and social monitoring features.
Although there isn't an advertiser search option, we believe Loomly is a viable option for small businesses and some solopreneurs who are starting out.
The cost ranges from $34 to $332.
SocialPilot is a properly incorporated social media management software aimed at digital agencies and small to medium businesses with multiple clients or accounts to manage.
SocialPilot is worth considering if your team is primarily interested in developing workflows with collaboration tools, permission settings, and custom reporting for clients. While SocialPilot provides the essentials, it also has a full social inbox feature that allows users to interact with their followers besides auto-posting.
They don't have an advertiser search feature, but they do have a social tracking and listening feature, which is quickly becoming a must-have for most businesses as they shift their focus to remote locations.
The monthly cost varies between $30 and $100.
Buffer is a simple-to-use and well-rounded social media management tool that allows you to submit social media posts in a single queue, track engagement, and collaborate with others.
This platform is trusted by various brands, businesses, agencies, and individuals to assist them in driving meaningful interactions and outcomes on social networks.
Even as you can't publish and recycle hundreds of posts, it incorporates an RSS feed that allows you to publish blog content. Buffer integrates with Reply, giving users access to a Social Inbox.
Buffer lacks an influencer search option and a constrained client management support system, as it is a very user-friendly tool that makes content planning a breeze. It also facilitates the creation of user workflows and user permissions.
Monthly fees range from $15 to $399.
The visual content scheduler and calendar features of Later's social media management tool are the most useful.
Later began as a social media management posting software with Instagram as the primary social media platform. It started out as a content planner for Instagram but has since transformed into a visual calendar covering most social media platforms. Their services are primarily focused on visual planning. It doesn't have a social inbox or RSS integration, but it does have an analytics feature that can help you schedule out your content better.
You might be amazed to learn that if you see an Advert for Later, you can add your FB pages to broaden your posting schedule. For Facebook and Twitter, even so, the platform is limited. If you're looking for a social media management platform that focuses on Facebook advertising or publishing social media posts to lots of social channels, you might like to look elsewhere because Later is currently focused on Pinterest and Instagram.
Monthly fees range from $7.5 to $41 so it is an economical option.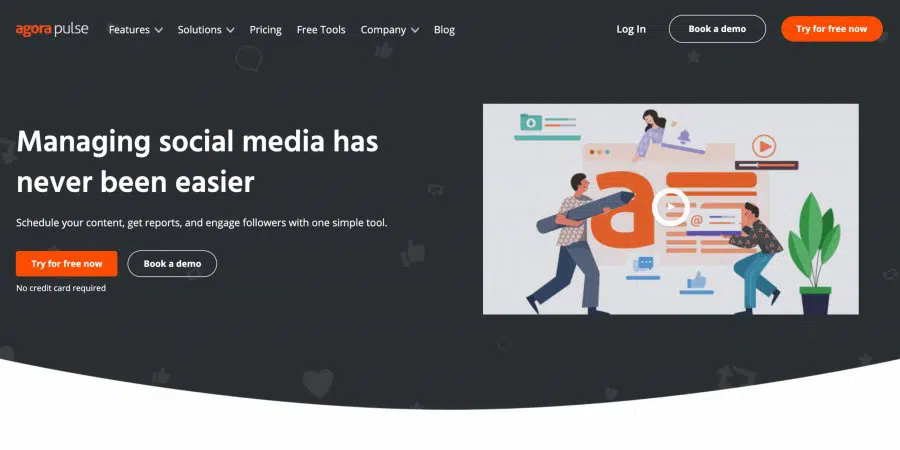 Agorapulse, like the other highly incorporated social media management platforms mentioned above, has all the central scheduling, visual calendar, analytics, social inbox, and team collaboration features.
Agorapulse, like Eclincher, offers competitor analysis and allows you to boost Facebook posts to reach a larger audience. Unfortunately, they lack an influencer feature, so you won't be able to track down your favourite industry figures.
Regardless, this tool has a cult fan base of niche users who find this social media management tool to be exactly what they're looking for. Don't write them off!
The price ranges from $79 per month to $399 / month.
The Final Word On Social Media Management Platforms
The reality is that we live in a spontaneous society where artificial intelligence of various types is at the forefront of technological advancement. In the world of online social media management services, it's no different. Which form of social media management platform best suits your budget, requirements, and preferences will be determined by your own business requirements.
We suggest that you choose a partner that will save your precious time implementing social media marketing mechanisms, actionable insights, and collaboration workflows.
If you would like a professional social media management team to take care of all your content creation and posting, then the team at Chatter Digital have a range of affordable social media content packages and plans to do just that for you!
Make a list to prioritize your customers' demands and see which alternative checks the most criteria, whether it's a completely integrated end-to-end solution to enhance your brand awareness and improve awareness, a lead-generation device, or a monthly content planner for blogging and social media content.